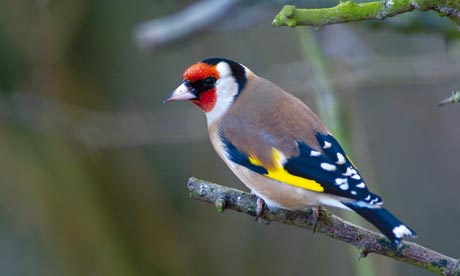 Goldfinch
Here in the UK, members of the public are asked once a year to spend an hour counting the birds in their garden (or park or any other place) and submit the figures to help map the population of birds in Britain.
The Big Garden Birdwatch is on this weekend (28th and 29th January 2012)!

Here is what the website says:
"For over 30 years, we've been asking you to count the birds in your garden – and you've been brilliant at it.

Every year, even more of you join in with the count, and 2011 turned out to be one of our best yet. Thank you.

With results from so many gardens, we are able to create a 'snapshot' of bird numbers in each region. This is important because we've been able to see that some of our birds are disappearing in scary numbers.

We've lost more than half our house sparrows and some three-quarters of our starlings. And your results have helped highlight these dramatic declines.

However, it isn't all doom and gloom - these surveys help us spot problems, but more importantly, they are also the first step in putting things right.

We look forward to finding out what you've seen."
You can register here and download your bird sheet.
Give it a go!